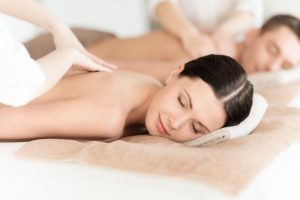 Personalize your Spa Package today…
All of our Spa Packages are completely customize-able. Feel free to call us with your desired services and we will prepare a package designed just for you! We are happy and willing to cater to groups and parties; however, please note that in order to accommodate multiple persons we request scheduling & securing your appointments well in advance.
Please note cancellations of groups will require a 24-hour per person cancellation policy. For example, if you are scheduling for 4 people we will need 4 days notice, 6 people 6 days notice, etc. Thank you in advance for your cooperation & consideration.
Traditional Couples Massage
Enjoy two simultaneous Custom Herbal Therapeutic Massages performed side by side in a serene environment.
60 minutes – $225 per couple
90 minutes – $355 per couple
*There will be an up-charge for adding Deep Tissue to any couples massage.
Complete Couples Package
Experience Bliss together with side by side spa treatments, 3-4 hours total time… 
Couples Slow Beauty Pedicure
Couples Slow Beauty Manicure
Side-by-side Custom Herbal Therapeutic Massages
With 60 minute massages – $445 per couple
With 90 minute massages – $575 per couple
*There will be an up-charge for adding Deep Tissue to any couples massage.
Avenue Classic Package 

Our most popular service package includes a treatment in each of our departments for a half day of pampering!
Introductory Facial
Custom Herbal Therapeutic Massage  (60 minutes)
Slow Beauty Spa Pedicure
Slow Beauty Spa Manicure
Approximately 4 hours of bliss – $335
Avenue Deluxe Package
Go the distance with this extended version of our Classic Package!

90 minute Custom Herbal Therapeutic Massage
90 minute Deep Relaxation Facial
Slow Beauty Spa Pedicure with ecofin
Slow Beauty Spa Manicure with ecofin
Over 5 hours of holistic therapy – $500

Spa Mama 
Give the gift of All Natural Organic therapy with a package specially designed for Mom's to Be!

Nurturing Mother Massage (60 minutes)
Peppermint Foot Therapy Enhancement
Express Facial
Wild Lime Scalp Treatment Enhancement
Slow Beauty Spa Manicure
Slow Beauty Spa Pedicure
Approximately 4 hours total time – $375

These package rates are reflective of the services specifically named. If services are change, upgraded or enhanced the package price may differ from the one shown.