Welcome to the beginning of the off-season!
Beginning Tuesday, September 5 residential parking permits are no longer required. Guests may park in any residential areas for free. Beginning Monday, September 18 all parking meters will be turned off. Clients may park wherever they find a space at no charge.
While the weekdays may begin to quiet down this season, our weekends stay thriving. The town of Rehoboth Beach does a fabulous job of hosting events throughout the fall and winter months. We hope you are able to join us downtown this year for some wonderful local fun! Please make sure to schedule any weekend spa services in advance, to ensure that we have the best availabilities to suite your needs.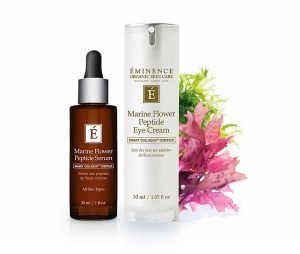 Introducing the Marine Flower Peptide Facial…
Discover your most youthful glow yet with the Marine Flower Peptide collection from Eminence Organics. Enhanced with the Smart Collagen+ complex to visibly lift and plump the appearance of wrinkles. With a combined effort of the Age Corrective System, with the new Marine Flower Peptide Serum & Eye Cream this facial experience will leave you simply flawless. This new collection is also available as at-home care.
60 minutes for $145