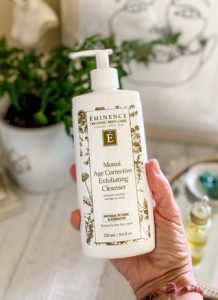 One of our amazing clients & friends, Lisa, operates an incredible lifestyle blog called Wear The Damn Boots. She recently shared her thoughts on Eminence Organic Skin Care & her experience at our spa…
"Clean Skincare Routine in My 50s
As I approached my 50s, I noticed several skin care concerns. The fine wrinkles that started in my 40s were more pronounced; a loss of firmness around my lips and jawline and more sun spots. The damage I did to my skin as a teen was coming back to haunt me. I had Mohs surgery on my lip to remove basal cell carcinoma and was also prescribed a strong topical retinoid to take care of a couple of other spots of skin cancer.
My skin was showing its age, but thankfully a friend recommended a facial at a local spa, the
Avenue Apothecary & Spa
in Rehoboth Beach, DE. There I received a specialized facial along with recommendations for a skincare routine. If you have not had a custom facial, I highly suggest it; a facial is so much more than an hour of indulgent pampering.
Facials performed by an experienced, well-trained esthetician can delay signs of aging, increase collagen production, improve skin elasticity and leave your skin with a healthy glow. Depending on the type of skin you have, your product selection is essential. Your esthetician can help you select products that increase your skin's look, feel, and well-being.
Morning Routine:
This lightweight serum help brighten skin, improve the look of fine lines and wrinkles, and reduce the appearance of free radical damage, and it's perfect for all skin types. After cleansing my face, I apply 3-4 drops, and my skin appears brighter and firmer.
This is a gel serum that is easily applied all over the face. This gel contains a collagen complex that helps aging skin feel and look smoother while moisturizing the skin.
I apply a thin layer of firming fluid after the serum and gently massage it all over my face. Since using this for several months, I have noticed my skin feels firmer and tighter. I love how this feels when applied to my skin.
This is my favorite product in my routine. I melt a pea-sized amount in my palms and gently massage my face and neck in a circular motion. It feels like silk and leaves my skin with a healthy glow. My complexion is brighter, and so is my mood after applying.
A drop of this oil goes a long way to renew aging skin. The Camellia Glow Solid Face Oil might be my favorite product, but this is the most important one in my routine. Rub 2 or 3 drops on your face and neck, massage with circular motions working your way from the center to the sides of the face. This oil evens out my complexion, reduces the look of my scars, and gives my skin an overall glow—a miracle in a bottle.
At the end of my morning routine, I apply a layer of this moisturizer all over my face and neck. I love the scent and texture of this cream; it keeps my skin protected and hydrated underneath my makeup. It leaves my skin feeling firm, smooth, and toned.
My multi-step morning routine has become a relaxing ritual for me. It starts my day off on a positive and calm note. Remember, the key to the best skincare routine is finding the right products that work for you. Taking care of your skin is incredibly important, but it can be overwhelming with so much information on how best to care for it. I highly recommend finding a local spa with a well-trained esthetician to help you find products suitable for you and your lifestyle."
To check out more from Lisa, visit her blog here: https://www.wearthedamnboots.com/post/clean-skin-care-routine-in-my-50s
For your own personalized routine for morning or evening – reach out to us! We are happy to recommend products directly after facial treatments or even for those simply shopping our apothecary. Consultations are free & we can offer you samples to get started. We are currently highlighting the Monoi Age Corrective Collection as part of our Summer Nights feature.