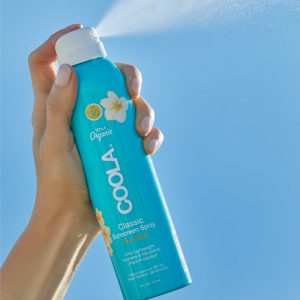 4 Beauty Products I'm Loving Right Now
For most of us, summer means carefree fun in the sun. But the reality is that hot weather, humidity, and extra sun exposure can result in sweat, clogged pores, sunburns, and dark spots if you aren't protecting your skin daily. Read on to discover my favorite products to keep your skin looking its best throughout the summer and beyond.
Sunscreen is Your BFF
It's no secret that you should apply sunscreen on exposed areas, especially your face, every day all year round. My favorite face sunscreen right now is Classic Face Organic Sunscreen Lotion SPF 30 in the cucumber scent. This organic face sunscreen provides broad spectrum UVA/UVB protection while hydrating skin. It is very silky and light, easy to apply, and smells so refreshing. I use a two-finger method when applying sunscreen to my face and neck before I leave for the day. I apply one strip of sunscreen to my index and middle fingers and rub in an upward motion. I always reapply during the day at the beach or pool.
For all-over body protection, I love the Classic Body Organic Sunscreen Spray SPF 30. The spray is so convenient and designed for long active days in the sun; it's perfect for all my beach days.
Hair Care
My summer hair care routine involves protecting it, just like my skin. I want to be able to rock luscious beach waves, but I can't do that with dry, brittle hair. The saltwater from the ocean can leave your hair dry, leading to breakage. I don't swim in the ocean or pool every day, but when I do, I make sure to spray in Sweet Spirit Leave In Conditioner by Innersense. When I get out of the ocean, I spray some in my hair after a light towel dry and brush it with a WET brush. This detangling spray is lightweight and leaves my hair soft and free-flowing on the beach.
Exfoliate & Moisturize
It's important to cleanse all the dead skin cells, oil, sweat, and sunscreen that accumulates on your body during the day. Gentle exfoliation is vital because you want to eliminate the yucky stuff without stressing your skin. For all-over body care, I have started using Sugar Kiss Sugar Scrub by Lalicious. The pure cane sugar gently rubs away dullness to reveal healthy, radiant skin. At the end of my shower, I scoop a generous amount of the whipped sugar scrub into my hands, massage the skin, buffing in a circular motion, and then rinse. After I towel dry, I apply the Sugar Kiss Body Body Butter that defeats dryness and has a soft, smooth finish leaving my skin radiant from head to toe. It leaves my skin feeling soft, smooth, and smelling sweet.
Perfecting your summertime skin care is easier than you think. Focus on clean, healthy products for glowing skin, and never, ever forget your sunscreen!